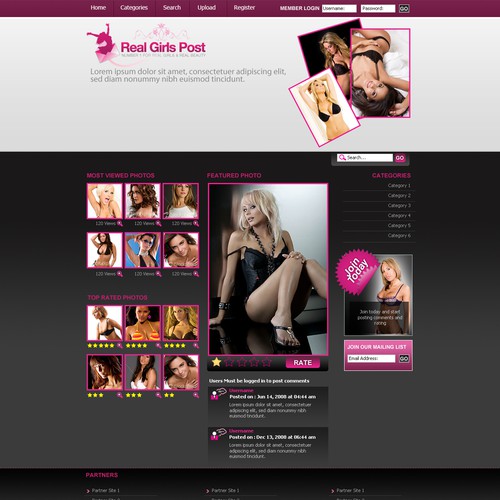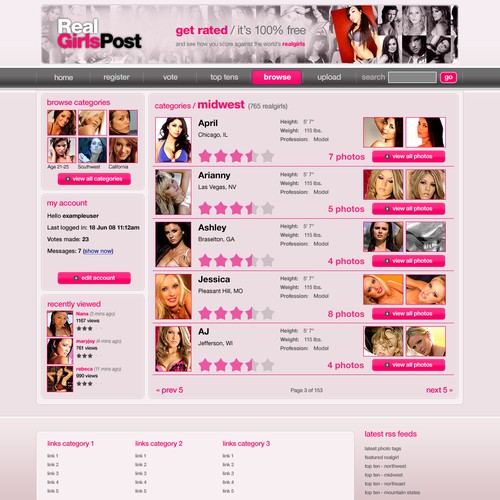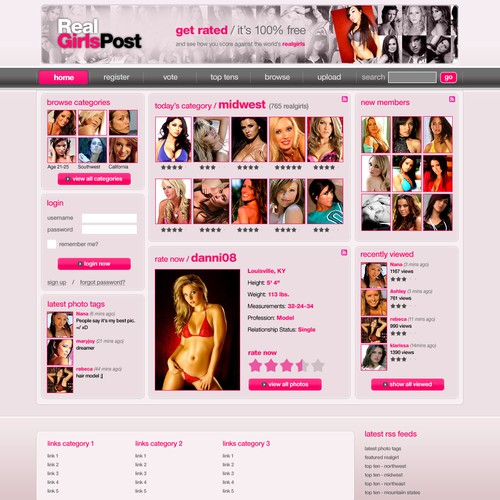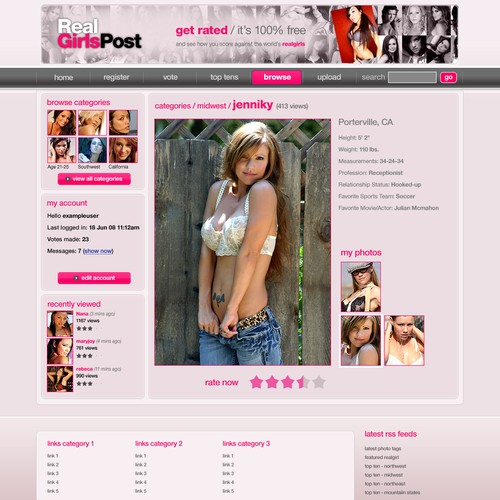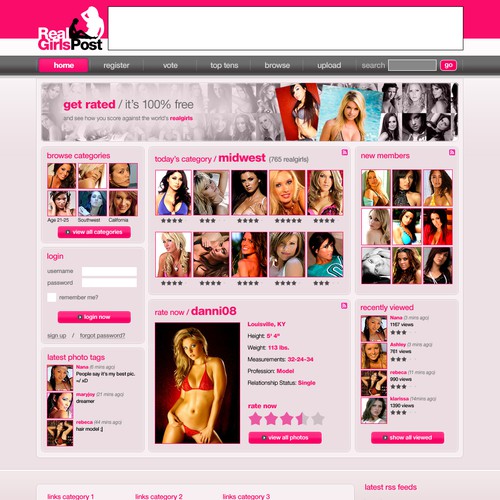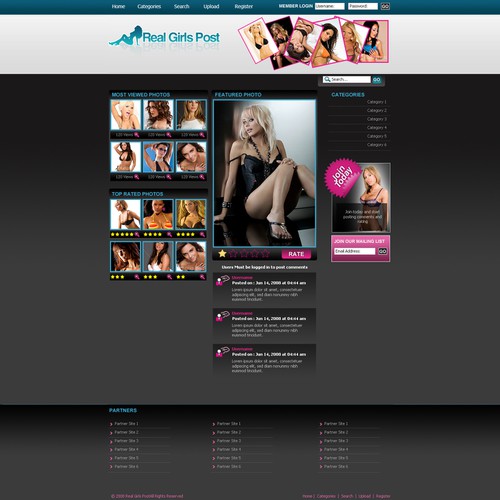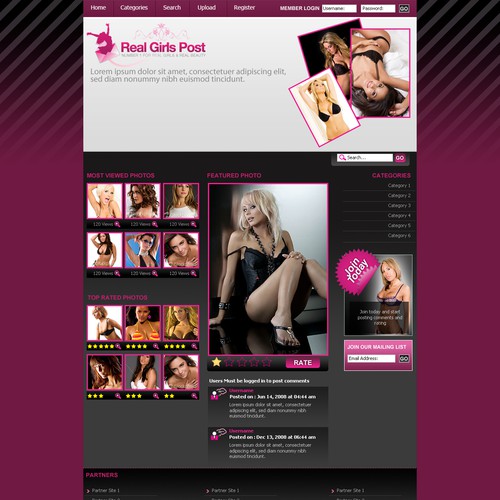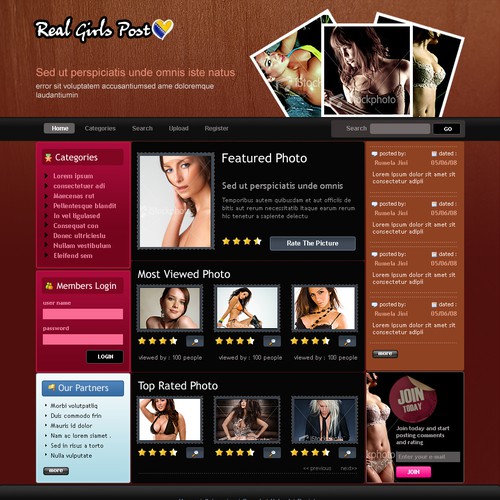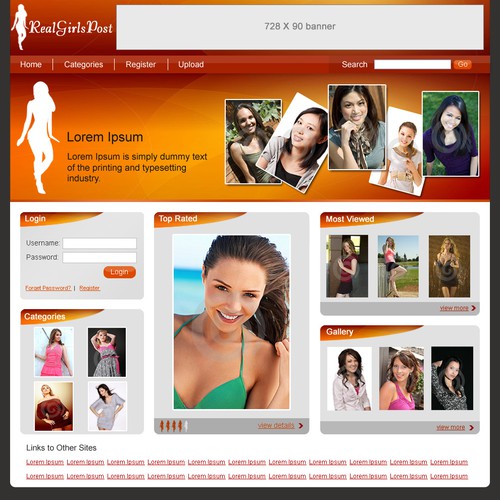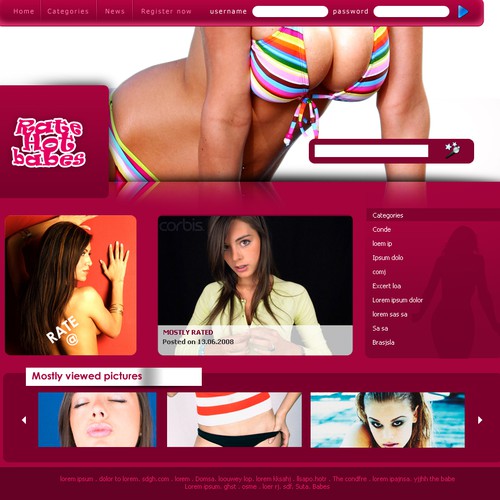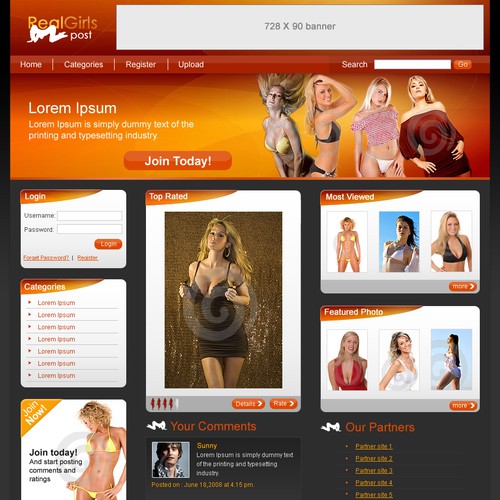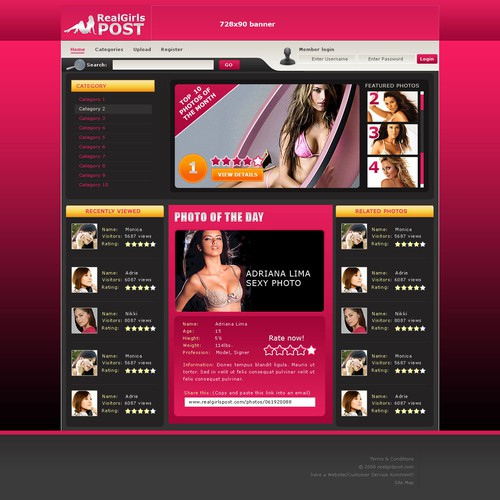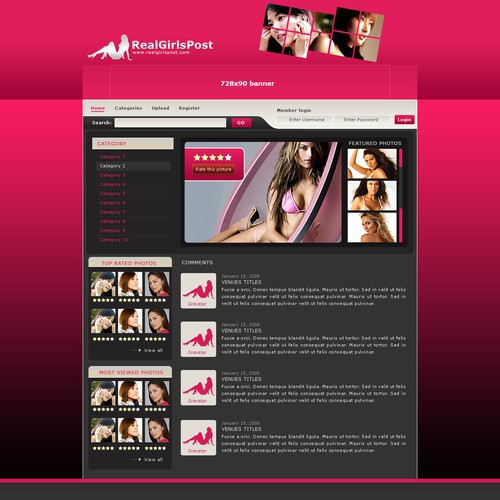 Wie designme das erste webdesign Abenteuer antrat
Zusammenfassung
I am looking for a design that will be used for a photo gallery website. I need to have the PSD delivered - No Coding Required.
Was inspiriert Sie und wie stellen Sie sich das Design für Ihr Unternehmen vor?
I am open to all ideas and color schemes for the site so long as it can be classed as a web 2.0 look and feel.
I am looking for designers ideally to provide inspiration for actual layout of the front page and inside pages. I know that the following items will need to be placed on the page but I have not got any hard and fast placement ideas that will be up to you. Whether you want to go for a column menu on the right side to a tab menu across the top etc.
Header
Section for navigation menu (Home, Categories, Search, Upload, Register)
Register/Login Box
Section for categories
Section for top rated pics
Section for most viewed pics
Search Box
Footer section for links to other sites
Section where the content will be shown
The site will have a main front page with a top header that allows for a 728x90 banner to be incorporated into it. I would like the brand name Real Girls Post to be integrated into the header with some graphical creation around it whether it be photos in frames like here http://www.hotnation.com/ to your own creation.
I am curently struggling for ideas to what to feature on the front page, one idea I was toying with was having actual thumbs for each category shown that I could randomly rotate in the script. This part I really am open to ideas and would like to hear as many as possible but a general run down of the site structure will be:
Main Home Page - Links To A Gallery Page - Links To Individual Photo Page
Each page overall will be generic as always it mainly just the content that changes the header footer menus etc all stay similar.
For the gallery page it pretty much speaks for itself where I would like say rows and columns of each photo in the gallery chosen to be displayed with a Page 2 Page 3 etc if the gallery had so many photos in. For the thumbs shown I would like some sort of frame around them. Under each thumbnail there will be the views and rating stars shown and anything else fancy you can do to make it look different.
The photo page again pretty much speaks for itself where I will need to show the photo in the main content area. This page I would like it to have some sort of frame around each picture that is displayed this has to be fluid as pics are going to be in diff sizes. Depending on the design concept this page will also have a section somewhere which shows small thumbnails of other photos in the same gallery. An example of this can be seen here http://www.skysports.com/gallery/de…49,00.html in this case it is actually on the top of the photo but thats not what I'm after, I need a seperate section on the page with the thumbs again up to you where. Each picture page will have a rating area and also a comments area so if you can create text/buttons please make sure to have a Rate, Comment, Previous, Next, Send To Friend and a Report one made.
I will be looking to incorporate ads into any design also so things like gallery page and especially photo pages if you want to mix things up with ad boxes feel free to.
I am very flexible on this project so if you want to run a draft layout past me before doing a lot of graphical work that is fine and probably a wise idea as I see this being a project that evolves with each version that is created and we can work together to add/remove certain aspects until we reach a desired stage. If you have example designs of other sites you feel I may like please let me know.
If you have any questions please just ask I will be checking in a lot and I will probably update things as we go along.
Kostenlose Features
Offener Wettbewerb

Fast-Tracked
Dateiformate der finalen Designs
Wir haben ähnliche Wettbewerbe gefunden, die Ihnen gefallen könnten