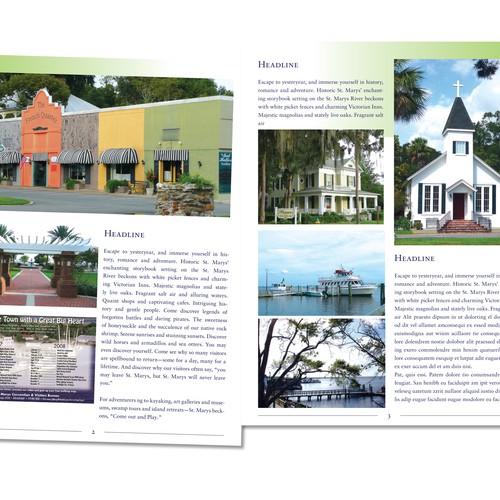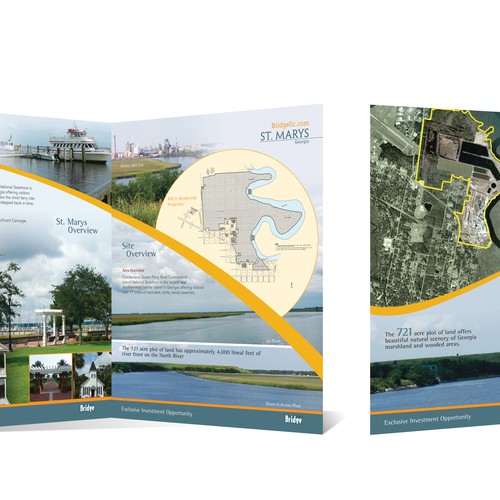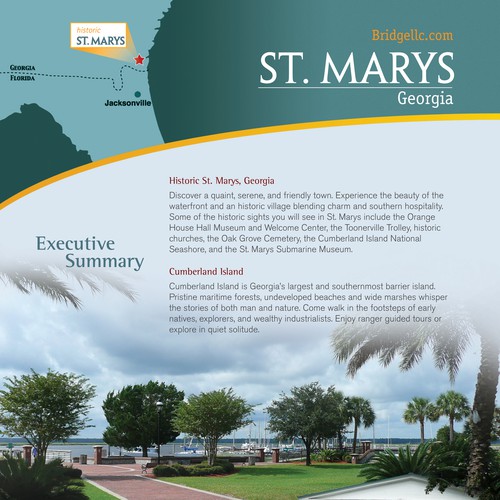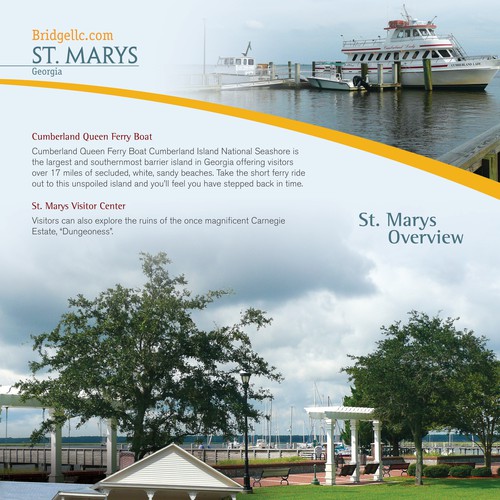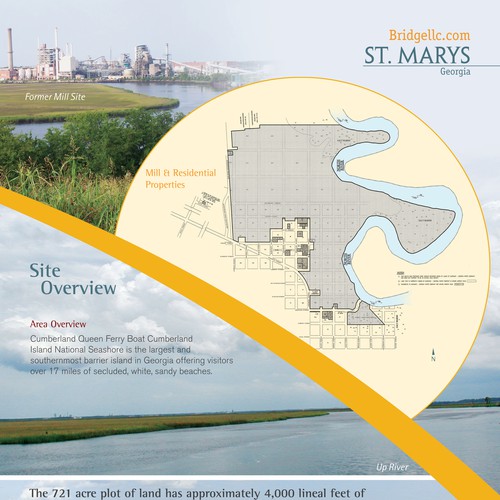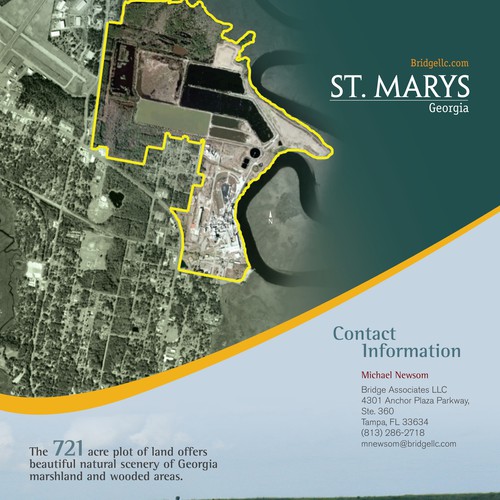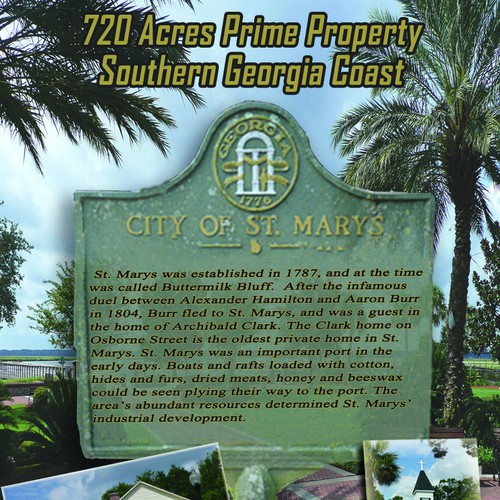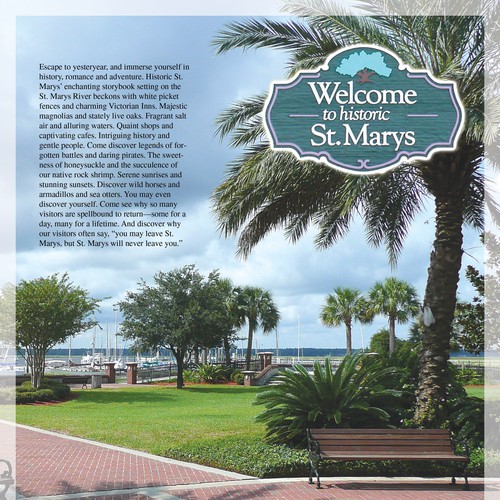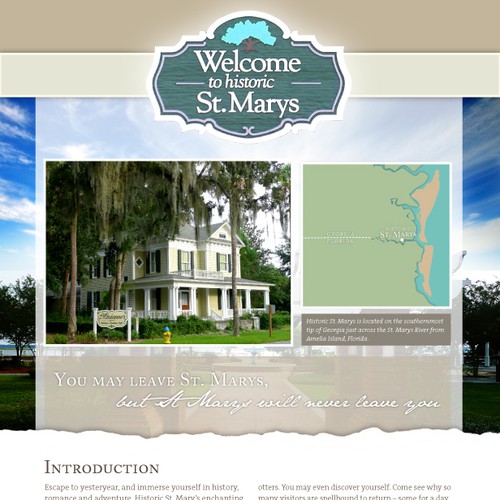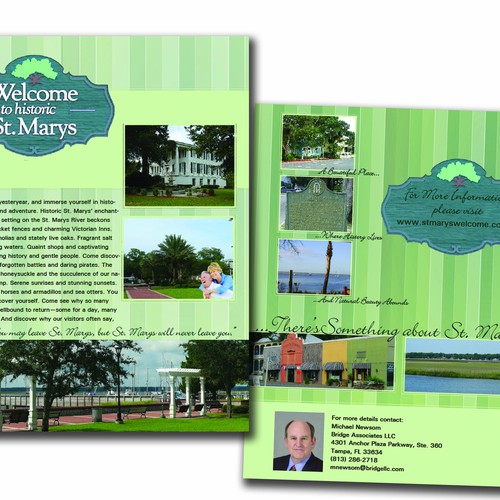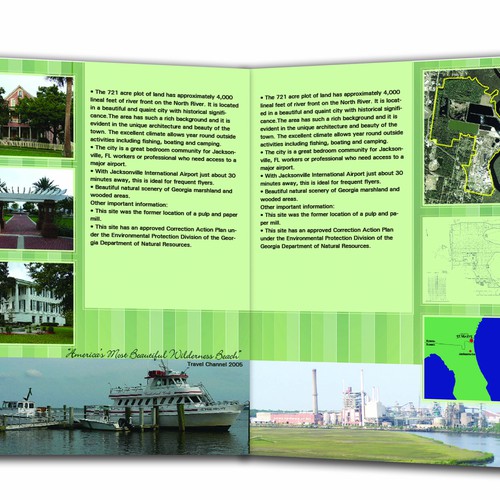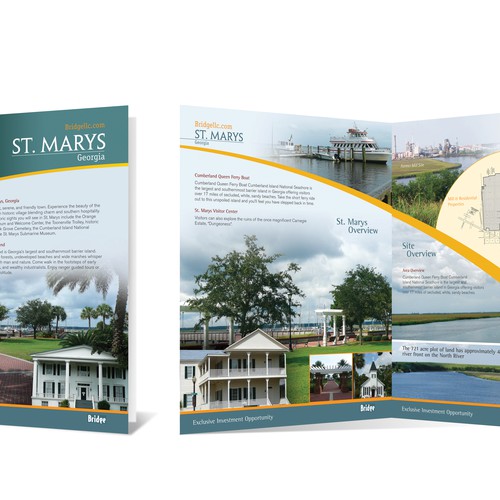 Wie Michael Newsom das erste print- oder verpackungsdesign Abenteuer antrat
Überblick
I am the liquidating trustee of the estate of Durango Georgia Paper Company. I am attempting to attract interest in the outstanding plot of land by showing potential buyers the unique characters of the community.
Deliverable: A three or four page, one-sided, full color sales brochure featuring a plot of land situated on river front property in St Marys, GA, with approximately 30 minute access to the Atlantic Ocean by boat.
Erzählen Sie uns, wer Sie sind und wen Sie erreichen wollen?
High end real estate developers and speculators.
Distinguishing features of the site:
• The 721 acre plot of land has approximately 4,000 lineal feet of river front on the North River (see St. Marys web page - http://www.stmaryswelcome.com/ for introduction to area). Include some of that information in this brochure.
• This plot is located in a beautiful and quaint city with historical significance (see St. Marys web page). Include some historical data.
• Climate allows year round outside activities (get details from St. Marys web page for local activities).
• The city is a great bedroom community for Jacksonville, FL workers or professional who need access to a major airport.
• Access to Jacksonville International Airport is approximately 30 minutes.
• The plot offers beautiful natural scenery of Georgia marshland and wooded areas.
Other important information:
• This site was the former location of a pulp and paper mill.
• This site has an approved Correction Action Plan under the Environmental Protection Division of the Georgia Department of Natural Resources.
• For more details contact:
o Michael Newsom
Bridge Associates LLC
4301 Anchor Plaza Parkway, Ste. 360
Tampa, FL 33634
(813) 286-2718
mnewsom@bridgellc.com
Anforderungen
Suggested design:
• First page – Introduction
o Recommend picture of "Welcome to St Marys" sign and one or two other pictures from folder.
o Written introduction to the community of St Marys with highlights from the St Marys web page, including:
 Map of location – similar to web page
 Script about the city, its historical interest and amenities
 Comments on climate and available activities
• Second page – area pictures
o Recommend pictures of:
 Old homes draped in Spanish moss.
 City parks
 Charter boat to Cumberland Island
 City river front
 City streets
• Third page plot plan
o Mill boundary survey and site pictures
• Fourth page
o Arial site photograph with outline of plot
Kostenlose Features
Offener Wettbewerb

Fast-Tracked
Dateiformate der finalen Designs
Wir haben ähnliche Wettbewerbe gefunden, die Ihnen gefallen könnten